Smarter Customer Interaction For An
Unforgettable Experience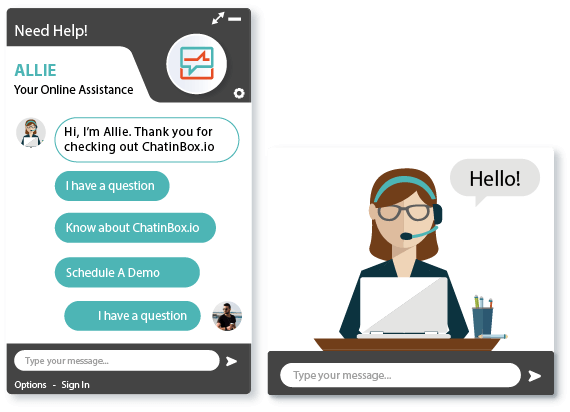 ChatinBox.io (your 24×7 assistant) – an Intelligent & Conversational User Engagement Platform which delivers Relevant Information and performs Secure Transactions basis a selected, typed or spoken input, completely on a self-service model. Powered by AI, ChatinBox.io can Learn & Upgrade itself with each User Interaction.
Create Impactful Customer Interactions & Guide Them
Towards Better Outcomes

Lead the Conversations with ChatinBox.io Awesome Features
Conversational, Informational, Navigational & Transactional ChatBots

API / Webhook based Database & Payment Gateway Integrations

Smart Alert Notifications (Event based Pop-ups)

Canned Responses (Rule-based Directed Dialogue)

Real-Time Analytics & Reporting

Quick Integration/Deployment

Customizable Interfaces

Data Encryption

Pre Chat Forms

Text & Voice Input

Live Chat

Operational Hours

Offline Forms

Chat Ratings

Visitor List

Chat Tags

Business Customization
(Build Your Own Bot)

Live Agent Transfer, With Previous Chat Transcripts

Queue Wait Time Display (EWT)

Role-Based Access Permissions

Live Video Chat

File Sharing – Attachments
Industries Covered

Next Generation Communication Solution For All Industries!